[go back]


Mushroom hunting of autumn 2010
2010 autumn go to mushroom hunting with Dr. Sato.


This goal is ymmmy mushroom "Cotathelasma vcntricosum". It's beat mushroom on serson. But ... Few early times. Size is little. And we infomatin leakage other persons. They know we comming befor take a mushroom. But this is only rumor. In forest found mushroom is little size. But a lot of found mushrooms. How hunting this trip. Okay let's go now in movie ! !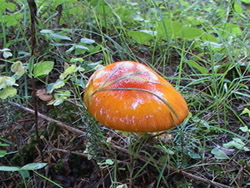 Look like a poison "Amanita muscaria" is can eat "Amanita hemibapha".



Mushroom Dr. Sato
| | |
| --- | --- |
| | Part 1 Shoot : 2010.Sep19th |