Mushroom hunting of final 2010
2010 go to mushroom hunting final with Dr. Sato. After wait spring 2011. Want keep more observation.


Site is fall down snow. We think so noting maybe mushrooms. But diferent ! Many harvest day. Surpris happen this year. And just open town festival of Kamikawa. With plan show on mushroom in festival showroom. Be worrie nothing mushroom. But we get many mushrooms to happy. And many find new no name mushroom. It's interesting mushrooms hunting. See you next year hunting movie.!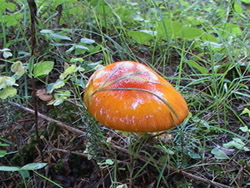 Look like a poison "Amanita muscaria" is can eat "Amanita hemibapha".



Mushroom Dr. Sato
| | |
| --- | --- |
| | Part 1 Shoot : 2010.Oct30th |