2011 first mushroom hunting
2011 starting hunt. We with to go mushroom dr sato. and went to go Kamikawa town.


What kind of mushrooms find today's trip. So first went to go Koshiji shcool vacnt lot. and next went to go deep forest. This place in find many kind of mushrooms. We glad.
See you next year hunting movie.!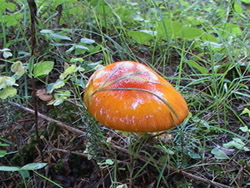 Look like a poison "Amanita muscaria" is can eat "Amanita hemibapha".


Mushroom Dr. Sato