Mushroom hunting June
Season is warm Hokkaido. 2011 2nd mushroom hunting. and Many found mushrooms.

We get come new member. Go to the with mushroom Dr. Sato with around Kamikawa town. Weather is rain to cloudiness and to few fall down rain. But feel is good by come new member. Eneagy and friesh fell all member. Very good day.
See you next year hunting movie.!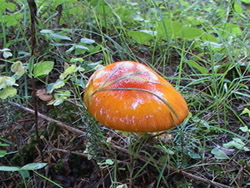 Look like a poison "Amanita muscaria" is can eat "Amanita hemibapha".

| | |
| --- | --- |
| | Shoot : 2011.June.4th. About 18min |

Mushroom Dr. Sato