[Back]


Mushroom hunting in June 2013
This time rocation was first shoting.

Cold time to late by winter season. Feald was not good condition. All late bloom mushroom. And Sato was broken body. We went to kamikawa around place. This plase was very deep tree. Just walk time came strong wind.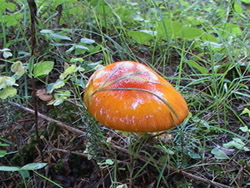 Look like a poison "Amanita muscaria" is can eat "Amanita hemibapha".

| | |
| --- | --- |
| | Shoot : June 2013. About 9min |

Mushroom Dr. Sato